Robin MacArthur
writer.dreamer.teacher.author of Half Wild & Heart Spring Mountain
Robin MacArthur lives on the hillside farm where she was born in southern Vermont. Her debut collection of short stories, HALF WILD, won the 2017 PEN New England award for fiction, and was a finalist for both the New England Book Award and the Vermont Book Award.
Her novel, HEART SPRING MOUNTAIN, was published by Ecco (HarperCollins) in January of 2018, and was a IndieNext Selection and a finalist for the New England Book Award.
Robin is also the editor of Contemporary Vermont Fiction: An Anthology, one-half of the indie folk duo Red Heart the Ticker, and the recipient of two Creation Grants from the Vermont Arts Council and the National Endowment for the Arts.
She has taught in many non-traditional settings throughout the US, and is available for workshops, residencies and Skype visits with classrooms or book clubs (visit the CONTACT page to schedule either of those).
When not writing, Robin spends her time prying rocks out of unruly garden soil, picking blackberries and raspberries outside her back door, and traipsing through woods with her big-hearted and half-wild children. She is also working on the dream of WORD HOUSE, an emergent literary arts initiative in Brattleboro, VT, which you can read more about HERE.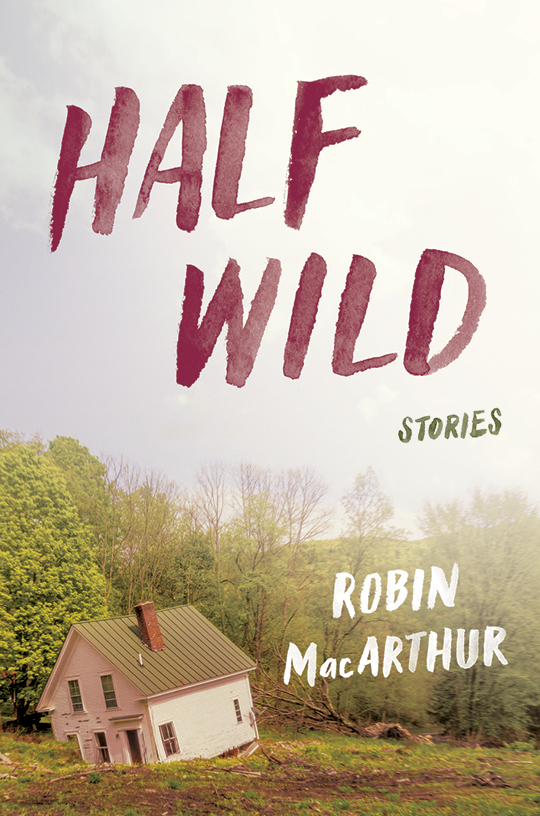 Winner of the 2016 PEN/NewEngland Award for fiction.
Finalist for the New England Book Award. Finalist of the Vermont Book Award. Barnes and Noble Discover New Writers selection. Independent Bookseller's Indie Next selection.
"This heartbreakingly honest and authentic fiction will make you weep over, laugh at, and finally cheer for, mothers and daughters, sons and fathers, lovers and losers, and the human race in general. Half Wild is American fiction, and American literature, at its very best."—Howard Frank Mosher
"Feral, wise, deft, elegant, luminous, Robin MacArthur's stories inhabit a reader with shimmering wonder." Rick Bass
"Robin MacArthur is a striking new voice and Half Wild is a stormy marvel of a debut." -Laura van den Berg
"MacArthur writes with the ear of a musician and a classic, pure command of the short story form, like a dispatch from Eudora Welty in the great north woods." --Megan Mayhew Bergman
BUY:
MY LOCAL BOOKSTORE
HEART SPRING MOUNTAIN PAPERBACK
"Poetic...A love song to the natural world, and a plea for its protection." STAR TRIBUNE (Minneapolis)
Ecco/HarperCollins, January 9, 2018.
"A fecund and contemplative feminist family saga." -Kirkus Reviews
"A quietly powerful debut novel." -Booklist
"Traveling back and forth in time, Robin MacArthur renders both the Vermont landscape and Vale's family tree with poetic precision and gutting realism. I fell in love with these women and their mountain, hard." -Alexis Margaret Smith
Available at:
Events
After an amazing year and a half of touring with Heart Spring Mountain I am staying put to work on my next novel and put my energy into WORD HOUSE BRATTLEBORO, a literary arts initiative in my beloved hometown of Brattleboro, VT. Check out the Word House website (www.wordhousebrattleboro.com) to find out about literary gatherings, classes & readings.
OH MY! MOUNTAINS BELOW
Robin makes music with her husband, Tyler Gibbons. For more info, see www.rhtt.net